Mark & Sharlot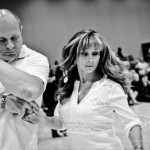 Mark and Sharlot are best friends and husband and wife who have enjoyed social dancing with each other for nearly two decades. West Coast Swing is their passion in common.  They love to create and challenge themselves in new directions with the music and with each other.
Together and with other partners they earned their Champion status in a variety of categories, Showcase, Classic, Strictly Swing and Jack & Jill. They continue as active Champions today. They are both inductees into the California Swing Dance Hall of Fame, and Sharlot in the World Swing Dance Council Hall of Fame.
In late 2008 Mark and Sharlot partnered exclusively to compete in Strictly Swings. Together they are creating a new and unique style and cool signature moves.
Sharlot and Mark assume multiple roles at the Nation's Top Swing Dance Events, local events, and abroad; including, Workshops, Judging and Chief Judging, Referee, Exhibition, Intensives, and Private Instruction. They are a powerful team on and off the dance floor who bring years of experience, knowledge, and history to the swing dance community. They are respected as leaders and admired as dancers. Driven and passionate about West Coast Swing, their desire is to preserve its integrity, foundation and history while embracing its new directions. Mark serves on the Board of the World Swing Dance Council and Sharlot serves on the Board of the California Swing Dance Hall of Fame.